About Us
It is difficult to write about ourselves, suffice to say that we are very fortunate people who have been chosen by Bhagwan Sri Sathya Sai Baba to practice HIS teachings and evolve ourselves on the path of self realisation. The bench mark is to achieve "zero reaction" under all circumstances as a matter of "surrender" at the divine lotus feet.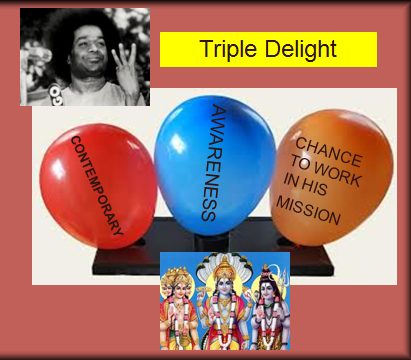 We are a group of successful businessmen, engineers, doctors, lawyers , educationists and social workers from various walks of life who came together on a clarion call received from Baba through one of HIS student to join hands.
Triple lucky:
Being contemporary of the Yug Avtar Bhagwan Sri Sathya Sai Baba.
On awareness of the dicinity of the Yug Avtar.
Baba picked us up for working in HIS mission of spreading pure selfless love in the society.
A list of the members of the society and the present Governing Body is appended bow:
List of the Members of SRI SATHYA SAI GRAMIN JAGRITI
Smt.B.K.Rakkar; Social Worker 63, Sector 8-A, Chandigarh. (0172) 2545000, 9888544046. e-mail ID: bkrakkar63@gmail.com
Sh. Sat Pal Kumar; social worker, 835A, Gali No.4, Prem Nagar, Yamuna nagar, M: 8950499505
Sh. Girish Puri; Businessman; 41-B, Model Town, Yamuna Nagar Phone:(01732)221373, 9416021373
Sh. B.R.Kamal; Industrialist; 526-R, Model Town, Yamuna NagarPhone:(01732)260898, 9896050301. E-mail ID: kecynr@gmail.com
Sh. Arun Kumar Singhal ; Social Worker ; 1062, Sector 37 B, Chandigarh 160035, M: 9779074504
Sh. Amar Vivek ; Lawyer ; 551, Sector 8B, Chandigarh; M: 9814027754 Phone:(0172)4567551 e-mail ID: amarvivek@rediffmail.com
Sh. Kamal Gupta, Industrialist, 02, Industrial Area, Yamuna Nagar 9910661532.e-mail: kamalgupta@polyplasticsindia.com
Mrs Benny Rakkar Sandhu, 25 Smore Slade Hills –Grange Farm, Oadby, Leichester-LE2 4UX. (U.K) 07940408838-(0) 1162718309
Fl. Lt. Ram Narain (Retd.); Social Worker; #1173, Pushpak Complex, Sector49-B, Chandigarh; Ph; (0172)2634801.
Dr. Vinod Singhal,Orthopedic Surgeon, Sai Sadan, Darwa P.O. Fatehpur Dist. Yamuna Nagar; Phone: (01732) 231244, M: 9416157930. e-mail: saijagriti@yahoo.com
Dr Bharati Singhal ; Senior Gynecologist ; Same as above
Sh.Parveen Singhal; Engineer; # 9-H, Professor's Colony, Yamuna Nagar ,M: 9996789555, e-mail ID: psyngal@polyplasticindia.com
Sh. K.C.Jain; Income Tax Adviser; 3126, Sector 21D Chandigarh (0172) 2705735, 9417430599. e-mail: kcj.advocate@gmail.com
Sh. Pankaj Malik; Chartered Accountant; 411, Srojani Colony Yamuna Nagar; Phone ;( 01732)257100 Ext.521® 254001
Sh. B.S.Nanda; Businessman; 86-A, Model Town, Yamuna Nagar Phone: (01732) 225638, (O) 250738 M: 9991914301
Sh. Avinash Sharma, Retd. Bank Official, 356, Sawan Puri Jagadhari . 9896174067 e-mail: saiavinash51@gmail.com
Smt. Santosh Kumari, Social Worker; 835A, Prem Nagar, Yamuna Nagar
Mrs Margret Mavi, Teacher; # 7, Woodland Avenue, Walsall, West Midland, U K , WS5 3Ln. e-mail: inboxmaggie7@gmail.com
Sh Atul Pathak, Businessman, V& P.O Pansara Dist Yamuna Nagar (01732)238027, M: 9812186383. E Mail: pathakent@gmail.com
Smt. Shashi Sharma ; Social Worker; 356 Sawan Puri, Jagadhari, M:9896229671
Dr. Sushil Kumar Maheshwari; Retd. Agriculture Scientist; #822/Sector 15- A, HISAR M: 941630291
Mrs. Urmila Gupta; Social Worker; 0-2 Industrial Area, Yamuna Nagar(Haryana); Phone: M 9996789541
Smt. Pushpa Gupta; Retd. Company Official; 551, Sector 8 B, Chandigarh Phone: (0172) 25415
Smt. Sangeeta Syngal; Educationist, Municipal Corporator; # 9-H, Professor's Colony, Yamuna Nagar (Haryana); 9355336500, e-mail ID: sangitasyngal@gmail.com
Smt. Anjana Vinaik , House wife, 545 Model Town Yamuna Nagar Ph:(01732)319637M:9812220771. e-mail: anjanavinaik@hotmail.com
Sh. Arvind Mittal, Drug Manufacturer, Mittal Medicose , Old Court Road, Jagadhari,9355336430 e-mail: ampharma85@gmail.com
Sh. Rajinder Mohan, Industrialist, 620 Antriksh Bhawan, 22,K.G.Marg,NewDelhi-110001,Phone:(011)23389660;
Sh. Gurnam Singh, Banker, Sanjay Vihar, Govind puri, Yamunanagar,9466140544,e-mai : gurnamsingh1962@gmail.com
Sh. Ashwani Kumar , Businessman , # 502, Gali No. 1, Nizamat Nagar Basti Nau,Jalandhar (Pb) (0181) 2258602, M: 9876079065
Mrs Bindu Gadh , Social Worker, 189-190, Shastri colony Yamuna Nagar 135001, (01732) 232428, M: 9315532722
Sh. Suraj Vohra, Businessman, # 87A, Model Town, Yamuna Nagar135001, (01732)231068. M: 9996200009
Sh. Jaswinder Kler Advocate, 5681, Pearsall Cres, Regina, SK, S4W0K1 Canada. Contact: 3068915340. E-mail: jasvinderkler123@gmail.com contact number: +1(306)5260135
Smt Kailash Sahni, # 319, Sector 28, Opposite Brhamputra, NOIDA Ph: (0120) 245331, M: 9871282752
Brig. (Retd.) Jitender Dixit, D 11/30 GF Exclusive Floors, DLF Phase V, Gurgaon 122009, 9818448766. E-mail: jati_dixit@yahoo.co.uk
Professor Virinder Walia , Educationist (Botanist) , Panjab University , #68,Sector 21A, Chandigarh 160022 , 9501835544 e-mail : virinderwalia@yahoo.co.in
Shri Bharat Bhushan Gupta;M.Sc; M.A; M.Ed , Director DCM Group of School, Sector 7 , Panchkula , M: 9855503268, e-mail ID : bbgupta1956@yahoo.co.in
Smt. Malti Loomba, Retired Deputy Director Education ,N-67 Black Stallion Drive, Naperville IL 60540 USA. M: 9646107310 and in India : H.No 1606, Sector 44 B Chandigarh , E-mail ID : paruldawra@gmail.com
Arun Kumar Agarwal, # 48, Sector 9 Panchkula 134113, Ph: (0172)2566706 M:9417273820 e-mail ID: arun1714@gmail.com
Satish Kumar Sharma, Businessman, #102, GH 52 Sneh Apartment Sector 20 Panchkula, (0172)2659812 . E-mail: sks1412@gmail.com
Dr Renu Tirkha, Educationist, #996, Sector 7 B Chandigarh 9872997996
Miss Davinder Ahuja, Retd Banker, 1642 HIG Flats Phase IX Mohali (Pb), 7814768214. E-mail ID : ahuja.davinder@yahoo.com
Shri Pushpinder Jain, Businessman, #864, ATS Golf Medows Barwala Road, Derra Bassi Dist Mohali (Pb) (0172),5068696 E-Mail ID: jaininn@yahoo.com

Shri Rahish Chopra, Retired Senior Hotel Manager, 1539 Pushpak Complex, Sector 49B, Chandigarh 160047, M: 9826901539 e-mail: rahish18@yahoo.in

Shri Sanjeev Puri, Businessman, 41B Model Town Yamunanagar 135001, M: 9355336934 E-mail Id :sanjeevpuri63@gmail.com

Shri Rajeev Kumar , Software technician, 835 A, Gali No4, Prem Nagar Yamunanagar 135001, M: 8059519503 rajiv1975kumar@gmail.com

Shri Rajeev Pathak Industrialist, V & PO Pansra Dist Yamunanagar 135001, M : 9355320799 e-mail chemicalssuruchi@gmail.com

Shri Maninder Bhatia, IT specialist 375 East Bhatia Nagar Yamunanagar 9466800444 e-mail: pulkeet@rediffmail.com