A brief report of the Activities of
SRI SATHYA SAI GRAMIN JAGRITI
(A Registered Society since 1990)
The Project Activities
3.1 Theme of the Project is reset: The theme of the project was initially conceived to be "Manav Sewa is Madhav Sewa". But this theme has since been reset by Bhagawan Sri Sathya Sai Baba on 02-01-2011 during the last interview, graciously granted to the management committee members, when Swami emphatically told them, "If you love me, love my words".
The sewa work in the project is, however, based on the concept of "Trikarna Shudhi" i.e., the purity and harmony of Thoughts, Words and Deeds by way of Sankirtan and Sewa under the guiding philosophy of Bhagawan Sri Sathya Sai Baba.
3.2 Location of the Project: The project centre is situated on the bank of Yamuna canal, 7.5 kms from Yamuna Nagar on old Saharanpur (Jhhota) road at village Darwa in Tehsil Jagadhri of Yamuna Nagar district (Haryana) Pin 135101.The village Darwa has now been included in Yamuna Nagar Corporation, but the project work continues to serve the rural neighbourhoods.
3.3 The Beneficiaries:
The project has two types of beneficiaries:
Adopted: Three villages are adopted for sewa activities:
1. Darwa with population: 1095
2. Darwa Majri with the population: 1162
3. Parwalon with the population: 1693
Total adopted Population: 3950 (Families=520)
In an economical survey of the adopted families, it was observed that 12% families are having good regular income from the farms or regular employment, 36% families are living on income from daily wages or irregular employment and the rest 52% are living "below poverty line". All the services rendered by the Sadan are totally free to the population of these three adopted villages.
Non-adopted: Besides the adopted beneficiaries, unspecified number of patients from the surrounding and far off villages/cities of Haryana, Punjab, Uttar Padres, Himachal and Utranchal visit Sadan every day for free consultation. The poorest of the poor amongst the non-adopted patients are also provided free medicines and investigations. Students from various non adopted surrounding villages are admitted to the school by a transparent open lottery system, subject to the availability of the seats.
Quality (and not the quantity) is the hall mark of all the activities.
3.4 Components of the Project: There are three wings of the Sadan:
1. Education Wing- Sri Sathya Sai Jagriti Vidya Mandir 2. Health wing
3. "Masalas" Production centre
These three wings derive their inspiration and energy from the fountain head of energy that is- "The Spiritual Activities".
The satellite panoramic view of the project site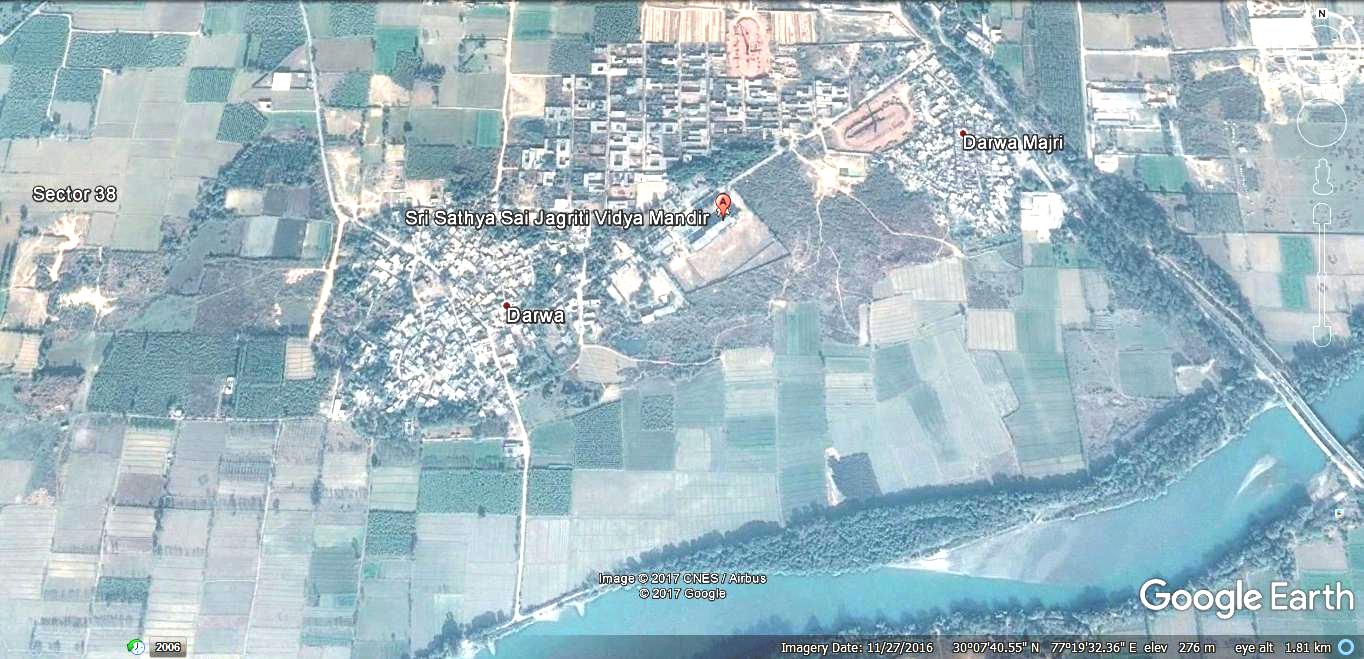 The circled area depicts the project site. Out of the total area of 7 acres of the land in possession, the School premises are in 4.17 acres (60%) and the remaining 2.83 acres (40%) has the Hospital and residential premises.
On its northern side is the dairy complex, on the southern side; there are farms and Yamuna Canal. The eastern side, the vacant land is reserved for the society to expand its project (Vocational & Skill development is being planned), the village Darwa is situated on the western side of the project.
Sri Sathya Sai Jagriti Vidya Mandir
-a "Sri Sathya Sai Vidya Vahini", "Sai School"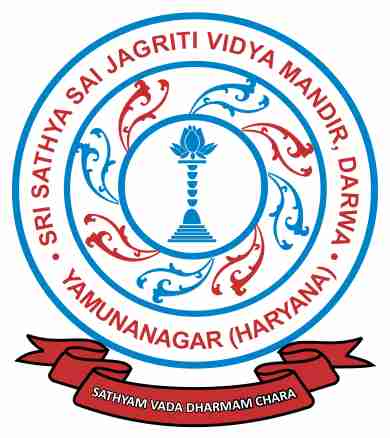 Highlights:
Regular co-educational bi-lingual school from pre-nursery to 10th class, recognised by Govt. Of Haryana and affiliated to Board of School Education Haryana, providing a high quality, but totally free education to the rural students.

Special emphasis on "Education in Human Values"-Sai Educare

The introduction of the newer concept of "Experiential learning"

Clean, safe and hygienic environment with provision of safe drinking water, separate toilets for boys & girls.

Qualified & trained teachers with teacher/student ratio as 1:23. Specialist teachers in Science, Sanskrit, Music, Computer Science, Physical training and a Librarian. Regular in-service training for the teachers.

Six e-class rooms: each having LCD projector, screen, green board and Wi-Fi /LAN internet connectivity for free access to the vast teaching material available on Sri Sathya Sai Vidya Vahini Portal.

Well-equipped science and computer labs. Facilities for LCD, slide and overhead projectors. A well-stocked School library.

Well organised school annual calendar for sports, extra-curricular activities and community services. Girl's Football "Khel" nursery.

Regular health check-up with 100% free immunisation against Hepatitis B and MMR. Regular Vit D + Calcium supplement for all. Free supply of freshly prepared vegetable curry with rice in lunch from Sai Kitchen.

Parental involvement (Parenting) in overall personality development of the children by regular Parent-Teacher Meetings.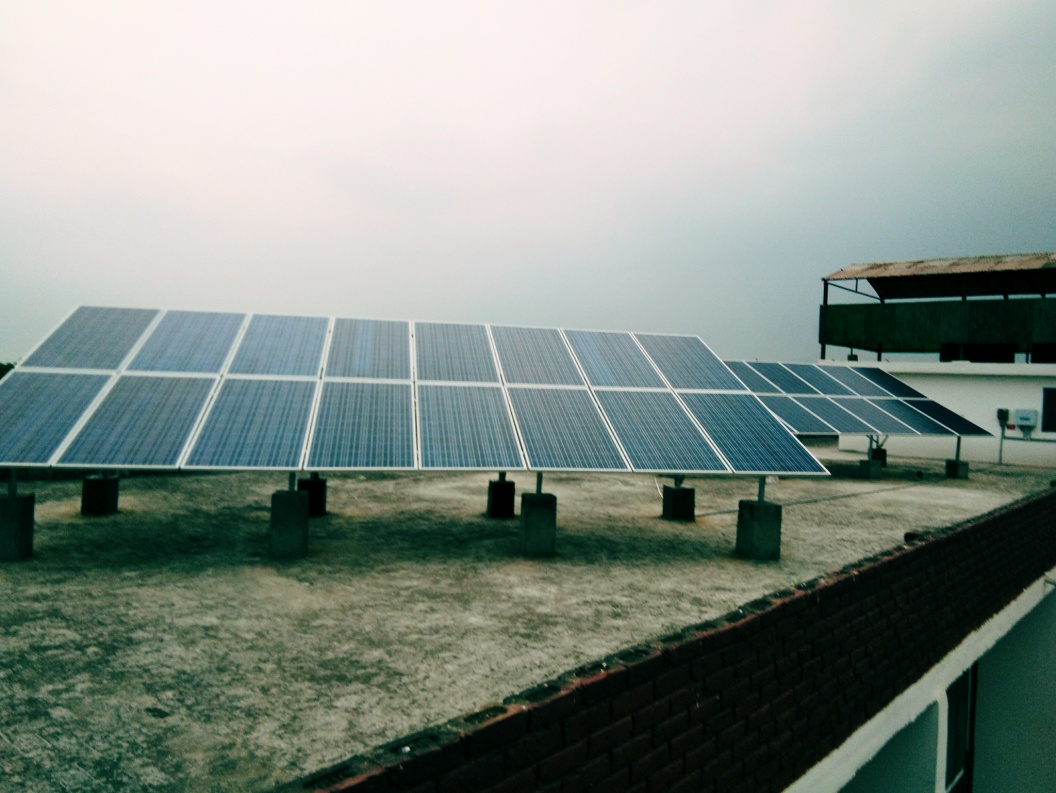 An "On Grid" 10KW Solar Power plant has been installed on the roof top of the school for meeting the power demands of the Sadan and reduces the electricity bill. The plant can be remotely monitored on line.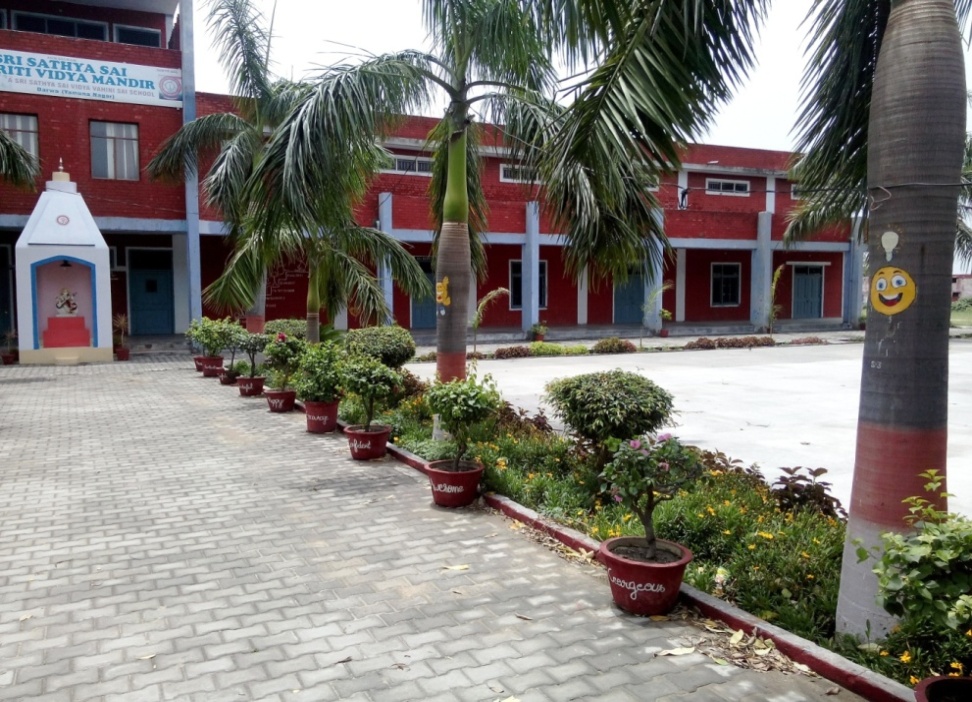 With the grace of the Loving Lord, the multipurpose assembly hall construction is a boon to the infrastructure created in the school. Having LED projector, it serves to host all the school activities such as Baba's birthday & Annual day celebrations, bhajan session andindoor games like badminton, table tennis etc.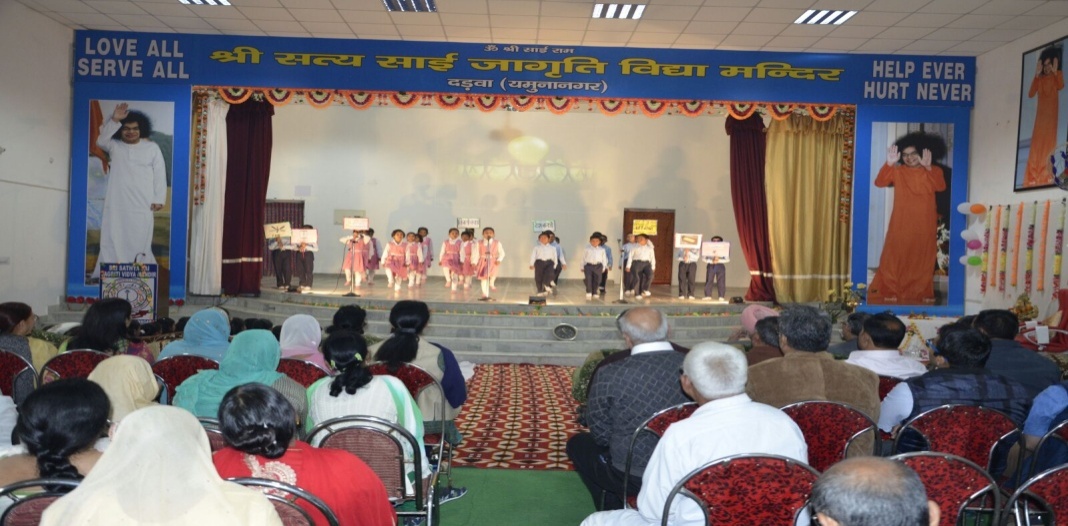 With loving grace of Bhagawan Sri Sathya Sai Baba, Sri Sathya Sai Jagriti Vidya Mandir has been declared as a "light House School" after a detailed audit by Sri Sathya Sai Vidya Vahini Foundation.
To explore this fountain head of gifted "knowledge", the school is adopting the system of Sai Educare. Under this system, an equal and balanced importance is given to both "secular" (board syllabus education) and "EHV" (Education in Human Values). According to Sri Sathya Sai Baba, both of these components of child development are like the two wings of a flying bird, essential for him/her to fly in the mundane world. Education is for Head, and Educare is for Heart! -Sai Baba
Sri Sathya Sai Vidya Vahini programme and affiliation to Institute of Sathya Sai Education (Mumbai) are providing the technology and continuing training to the teachers, thus giving impetus of achieving the goal laid down in Sai philosophy of education- "Sai Educare"
With the Institute of Sathya Sai Education (Mumbai) taking over the school under its wings; the new concept of "Experiential Learning" has been introduced in the school. Sincere efforts are being made to develop the "Character" of the young ones by an integrated approach involving students, teachers and parents through medium of "LOVE", balanced with "Law".
Infrastructure: With Loving grace of Sri Sathya Sai Baba, the school management has been able to build a state-of-the-art infrastructure for the children to bloom into useful individuals. There are six e-class rooms of the senior classes, each having a LED projector, internet accessibility, dustless chalks and green boards. The school has an assembly hall, a well-equipped Computer lab, a composite science lab, a mathematics lab, a well-stocked library and a "Rainbow" room wherein projects models and charts prepared by the students in the past, are stored.
The conference room, the computer lab and the Balraj Gupta Assembly Hall have also been provided with LED projectors. Sports grounds for football, hockey, athletics and Volley Ball already exist. Basketball court is an added asset in the school. The school library has a stock of 4002 books (Reference books 1000, Academic: 1530, Story: 560, Spiritual: 720, General Knowledge: 49, Open Board: 34, Novels: 24, Moral Science: 15 and Magazine: 70). There is a qualified librarian who manages the working of the library.
All class rooms are connected with the Director's office through PA system. Security CCTV cameras have also been installed recently.
Connection to the modern world:- The fully Air conditioned Computer Lab is equipped with 16 computers wherein the students learn how to make the presentations (ppt's), prepare Excel sheet, write in MS Word and also search material for their different subjects. A qualified teacher has been employed to guide & help them. The whole school building is Wi Fi enabled for Broadband internet accesses.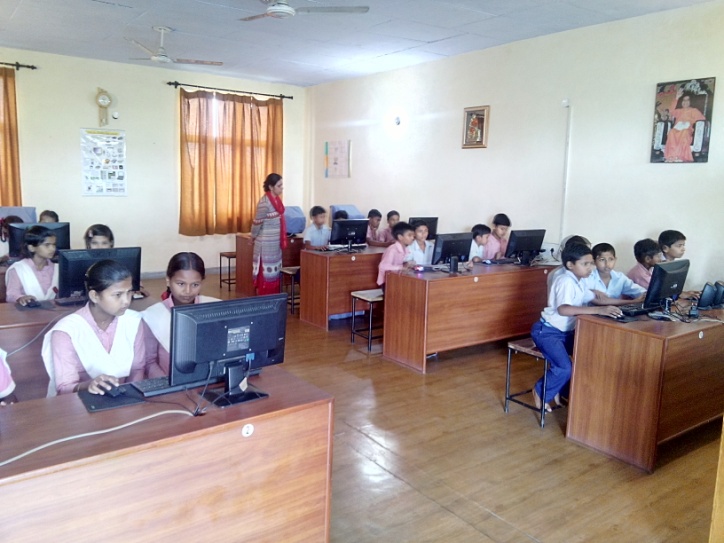 The Library is a garden of silence for the students to enjoy and comprehend and expand their knowledge by reading books of various subjects. The school library is very spacious and well lit. It has a stock of 4002 books.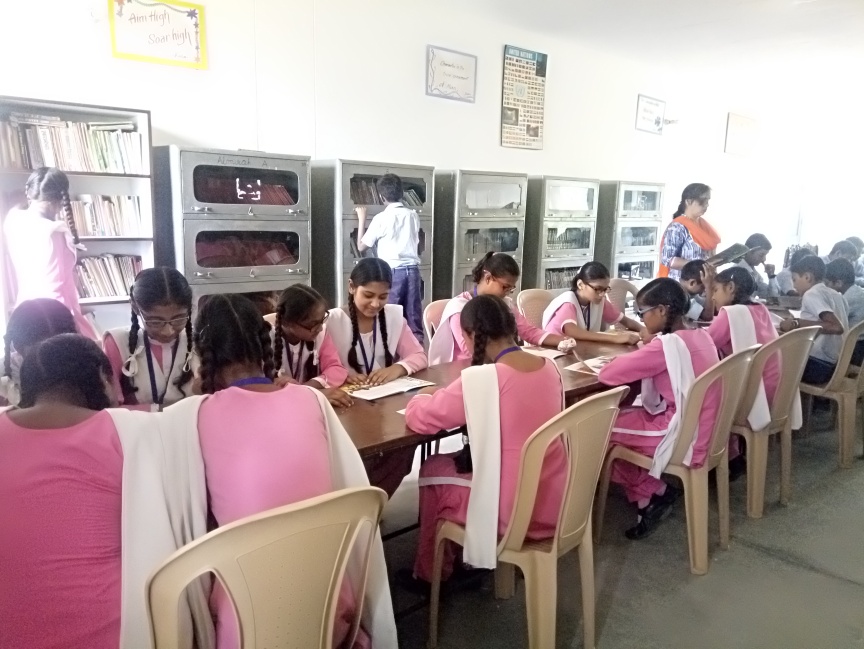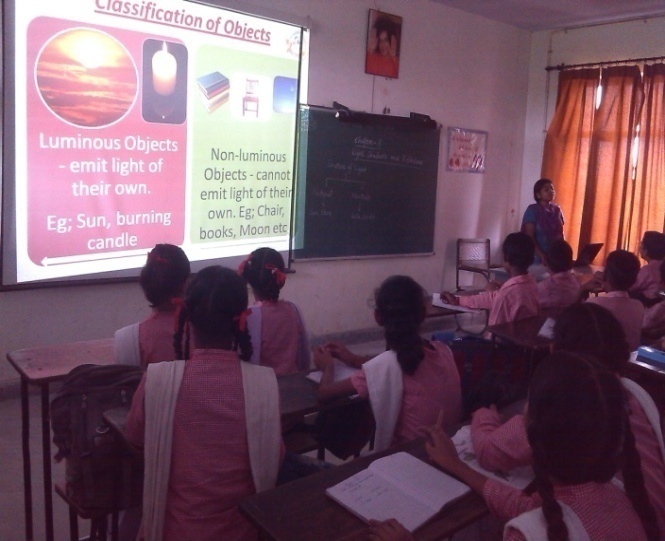 The SSSVV e-class rooms:- There are six e-classrooms for 5th to 10thstandard, fitted with a LED projector, a foldable screen, a green board. Children are taught the subjects using updated educational videos and lesson planson regular basis.
The Student
During the academic year of 2019-20, the total strength of the school was 441 students, with 49% boys and 51% girls. Most of the students (84%) were from socio-economically backward classes. Although there is no caste-based discrimination of students in the school in any manner yet the detailed break up is given below to meet the information requirement of the Education department under RTE:
Category

SC

BC/OBC

General

Total

Gender

Boys

Girls

Boys

Girls

Boys

Girls

Boys

Girls

Total

Number

115

112

71

72

29

42

215

226

441

%age

51%

33%

16%

49%

51%
The primary classes follow the Haryana Board curriculum in English medium. But, in an effort to bring these rural students at level ground with urban children in competing for admission to professional courses, the medium of instructions for the subjects of Mathematics and Science of 1st to 10th classes have been changed to English. The medium of instruction for the subject of Social Studies is being gradually changed from Hindi to English. Sanskrit is, however, a compulsory subject for all the students.
The school computer laboratory has 16 computers for a class of 35 students. Use of computer technology under the aegis of Sri Sathya Sai Vidya Vahini has not only made the subjects interesting and comprehensive for the students, but it is also inculcating the "moral values" in them.

To encourage healthy competition among the students, Balraj Gupta Medal is awarded to the best outgoing student of the school every year. It carries a cash award of `11000, a merit certificate and a "Medal". Based on well-developed protocol of selection (with no room for personal bias). Master Ansul s/o Smt Geeta & Shri karam Chand of Darwa was awarded this coveted prize this year.
The importance of moral education is the basic principle of the Sai Education philosophy. Bhajan singing and Vedas recitation are the regular features of the Morning Assembly.
Academics
The academic session started with "Hawan" in the premises of the school on 1st of April in which the senior students, teachers and other staff members participated. The academic year (2019-20) had 225 teaching days. The Teacher /student ratio was healthy at 1:23 with 19 qualified and experienced teachers for 441 students. Emphasis is on regular attendance of the students in the school. The annual average attendance of the school is 95.1% (Pre-school classes: 93.7% and 95.6% in the school from first to tenth classes).
The Annual Results:
The Annual examination Covid-19 hit results of 10th class conducted by the Haryana education board has been excellent for our school. The three-year results are tabulated below for viewing the progress made in academics:
Year

>

No. Of Students

Pass

%age

Merit

>75%

1st Div.

60-75%

2nd Div.

<60%

Reappear

2019-20
27
100
19 (70.4)
8 (29.6)
0
0
2020-21*
28
100
28(100)
0
0
0
2021-22
20
100
12 (60)
6 (30)
2 (10)
0
* exam was not conducted because of Covid Pendic , The result was declared based on internal assessment.
10TH CLASS SUBJECT WISE RESULT AT A GLANCE
Year

Hindi

Eng.

Maths.

S.St

Science

&

Techn.

Skt

Average

%age

2019-20

75
76.44
76
65.96
81.7
76.85
77.58

2020-21

91.6
91.6
91.4
95.5
94.61
95.36
94

2021-22

73.8


77.8
71.5
69.3
81.3
80.2
75.65
Veda Chanting: Baba, who is the Veda Purusha, has educated us time and again on the supreme benefits of chanting Vedas. Every occasion gets started with Vedic chants which leave the whole place charged with divine vibrations. In fact, "Veda Chanting" has become an integral part of His education system. All India in charge of Veda chanting training, Mr Balasubramani Chandrasekar is regularly visiting the school to conduct Veda chanting classes.
| | | | | | |
| --- | --- | --- | --- | --- | --- |
| Sr. No. | Games | Block/Dist. Level | Date & Place | Position | State Level Participation |
| 1 | Basket Ball U-14 Boys | Dist. | 9 April 2019 /New Happy School YNR | 1st | Himanshu select for State level. |
| 2 | Basket Ball U-17 Boys | Dist. | 9 April 2019 /New Happy School YNR | 3rd | Rohit, Rohan, Tushar & Sukhchain |
| 3 | Basket Ball U-14 Girls | Distt | 9 April 2019/New Happy School | Participation | Aprajita |
| 4 | Basket Ball U-14 | Dist. | 26 August 2019/ Holy Mother Public School | 1st | Himanshu select for State level. |
| 5 | Basket Ball U-17 Girls | Dist. | 9 April 2019/New Happy School | Participation | Shivani, Dhruvika & Anushka |
| 6 | Kho-Kho (Girls)U-11 | Distt Level | 11-Sept-2019/ Fatehabad | 1st | Team Achievement |
| 7 | Relay Race (Girls) | | 11-Sept-2019/ Fatehabad | 1st | Team Achievement |
| 8 | Yoga (Boys ) | | 11-Sept-2019/ Fatehabad | 1st | Hitesh participation in Yoga |
| 9 | Kabaddi (Boys) U-11 | Dist. Level | 13-08-2019/Chhachhroli | 1st | Team Achievement |
| 10 | Relay Race | | 13-08-2019/Chhachhroli | 1st | Team Achievement |
Co-curricular activities:
"Communicative skills and confidence building" have been identified as two areas of concern in the rural education. Regular classes of senior students in General Knowledge and Awareness are conducted on Sundays. In the field of personality development of the children, co-curricular activities play an important role. The school has a regular calendar of such activities.
Sports:
The achievements of students in various sports disciplines over the year are tabulated below: Best Achievements in the field of sports:
Simran won Gold Medal in National Junior Football tournaments held in Kurukshetra from14-01-2020 to 18-01-2020.

Komal represented the state of Hrayana in Junior National Girls Championship held at Kolhapur (Maharashtra) from 20-04-2019 to 01-05-2019. Her team scored 3rd position.
The Born Artists
The School has prepared and staged two quality dramas in the hallowed precincts of Parsanthi Nilayam:
A scene from "Sarva Dharam Saroopa Sai" presented on
30-12-2011 (Prasanthi Nilayam)
The cast of the drama "Love All Serve All" praying to Bhagawan
(06-05-2013) at Prasanthi Nilayam
Rare achievement in sports:
Like last year producing a national level player Komal, the outstanding achievement of the Golden Jubilee Football Nursery for the Girls this year also was producing a champion national level footballer, Simran who represented Haryana at All India Junior girl's football championship held at Karnal. Her team won the championship by beating the Jharkhand team. She excelled in academics too, a rare combination of an all-rounder. She scored 95 % marks in her final VI class examination, standing 2nd in her class. For her achievement, she was facilitated on republic day 2020 by the Local MLA,Shri Ghanshaym Das.
4.4 School Health Programme:
The health of each student is monitored by maintaining his/her health card. Besides regular medical/dental check-up and deworming of the school children twice in a year, all new admissions were immunised against Hepatitis B and MMR (Measles, Mumps and Rubella), thus achieving 100% immunisation in the school. The anaemic children were given oral iron on regular basis. Every student received Vitamin D and Calcium supplement on 95 days in the calendar year (31993 tablets for senior students and Vit D Sachets in milk for pre-school children). The results of these health providing programmes are encouraging in terms of gain in height, alertness and mental ability of the students.
"Sai Kitchen" was commissioned in September 2012 for supplying freshly prepared, tasty and nourishing vegetable curry to all the students free of cost. A new initiative has been taken wherein rice with vegetable was provided to all the children every day.
'Heritage' Club Activity: With the grace and guidance of Swami, the students of SSSJVM participated in various 'Heritage Club' activities during the session 2019-2020.
On 31.08.2019 eleven students of our school participated in Quiz competition organized in Dyal Public School. The theme was 'Heritage of India'.
Essay Writing and Poster making competitions were held on the topic 'Gandhi JI at 150 years. Twelve students from our school participated. Result is still awaited.
Kashish of class X and Mehek of class IX wrote articles on 'Ramayan' and 'Musical Instruments' respectively for the magazine Young INTACH (monthly magazines). Both the girls received 1st prize.
Extending help:
Child adoption scheme: Any student who has either lost his/her father or whose mother has been deserted by her husband, was adopted under the "child adoption scheme" for the purpose of providing free books, uniform/shoes and board examination fees. This year, ten (10) such students had been adopted. Donors from U.K are adopting these children on regular basis.

Providing books, shoes and vision correcting glasses on regular basis to all those students who cannot afford.

Laptop computers: Till now, 13 (thirteen) laptop computers have been gifted to deserving ex-students pursuing professional courses (details on page 61)

Career counselling: Data base of all the ex-students has been generated to keep a track of the progress made by alumni in their career. Regular meetings with these students were held. Such meetings provided the opportunity to counsel them on their problems encountered by them while pursuing higher studies and also to guide them for their future career. Logistic support is also given to these students in "online" filing of applications, seeking of results and guiding in admission process to various professional courses.

Financial support was given to economically poor students to pursue their higher studies. Prerna, Shivani and Tanu are receiving financial support for B.Sc (Nursing). Two girl students Km Sazia and Km Muskan are getting financial support for her 10+2 (Medical stream) course in S.D. Senior Secondary School, Jagadhari.
The Teacher
Teacher's training and their other activities :
There has been emphasis to impart in-service training to school teachers under the philosophy of Sai Educare. The teachers are sent for various workshops/conferences whenever conducted by Sri Sathya Sai Vidya Vahini at Puttaparty and Institute of Sri Sathya Sai Education in Mumbai on regular basis.
The details of the activities under Sri Sathya Sai Vidya Vahini programme and Institute of Sathya Sai Education (Mumbai) are given on page 47-49 (Annexure-I). The other teacher's related activities are, however, highlighted below:
TEACHERS' DAY CELEBRATION (5th Sep. 2022): Teachers' day was celebrated on 5th September 2022. The students of X class became pupil teachers to understand the nobility of this profession and also to know the difficulties and the challenges the teachers face.
During morning assembly, Dr. Sarvapalli Radha Krishnan's picture was garlanded by the Director and the headmistress of the school. The students performed group songs and lovely poems to show their respect for the teachers. Video clippings were also shown to them. The teaching in different classes by the students of X class was a great experience for them. They shared their experiences and expressed their gratitude for the teachers. Refreshment was also served to them.
Bhagawan Sri Sathya Sai Baba was gracious enough to arrange lovely gifts of sarees and safari suits for His teachers as HIS birthday gift in advance. Smt. Urmila Gupta distributed the gifts to the teachers and showered her love & blessings upon everyone.
"No More Boring Walls "
Wall Paintings (SSSVV)
THE PARENTS
As mentioned in the beginning, the third factor in the child personality development is the importance of the role of Parents. The school, not being a residential one, is heavily dependent on the home environment of the students for their proper upbringing. But, the home environment in rural India exposes the children to all sorts of social evils like drinking, gambling, use of abusive language, quarrelling with neighbours, loud music etc. Hence, there lies a challenge for the teachers to counter these evil forces surrounding the delicate and sensitive minds of the children. The parents are informed about the various activities/ meetings/special instructions /school closures etc through bulk SMS service in Hindi.
4.8 Parent-teacher meetings: "Poor parenting" by parents at home is the cause of concern for the school administration. The usual story is that the parents have no control over their children because of their habits spoiled by parents and grandparents.
Visitor to the school:
With the immense grace of Lord Sai, Prof. H.J.Bhagia from Prashanti visited the school on 16th May 2019. He witnessed morning assembly followed by a small culture programme. He was immensely happy to see the programme and appreciated. He remarked that this school is a mini Prashanti Nilayam.
He also sensed that Lord Sai's grace is abundant here. Everybody was spell bound when he shared his experiences with Swami. In one of his experiences, he said that if one needs His blessings ever, one has to surrender totally at His Lotus Feet without any doubt, practise love & humility and see Him in every creation of Lord, living or Non-living. Serve your parents whole heartedly. Selfless service and hard work bind God to shower special grace. Lord Sai loves His students boundlessly and shows His omnipresence to them many a times. Smt. Rachna Bhagia also shared some of her personal experiences with Swami. The visiting guests showered their love and gave special blessings to Master Krish & Master Lakshay. After visiting class rooms and the hospital wing, the two left for Dehradun at 1:00 p.m.
Scope for Improvement:
In general, the students lack interest in their studies. They don't do "self-study" at home. There is a scope in improvement of their written and spoken languages. The children lack etiquettes and respect for elders which need to be looked into. The students require regular training in improving their personal hygiene.

Now, since the students have started getting admissions to professional colleges, they feel handicapped because of poor communication skills and lack of confidence.

The involvement of Parents in the child development could be further improved by regular counselling of the parents.

The teachers need to work harder to improve their teaching skills and make the subject lively, using teaching aids and free discussions.
HEALTH WING
Regular OPD for 6 hours daily from Monday to Friday and 3 hours on Saturday, manned by 2 qualified and experienced doctors.

300 mA X-Ray machine, ECG machine and Laboratory facilities for routine laboratory investigations and full range of Physiotherapy equipment, manned by locally trained personnel.

Regular Specialist clinics, once in fortnight for Internal Medicine and Dental patients run by qualified doctors. Homeopathy clinic, once a week. Daily Orthopedics and Gyne. Obst clinics.

School Health Programme

A "24X7" Ambulance service for the adopted population.
The beneficiaries:
Two types of beneficiaries are attending the Out Patient Department for seeking free medical consultation. Their beneficiary status and entitlement are tabulated below:
The Class of Beneficiaries

Adopted

Non-Adopted

Constituents

3 villages: Darwa, Parvalon and Darwa Majri with Population: 3950

Pts. From near & far off places of Punjab, Haryana, Himachal, U.P, Utranchal, Rajashtan, Delhi

Consultation fees

Nil, no registration fees

Nil, no registration fees

Investigations:

Laboratory & X-Rays

Free for all

*Subsidised for all

*Totally Free to ½ free for Poor

Indoor treatment expenses

0 to 100% depending upon the Economic criteria

Self-financed
The hospital building houses the outdoor medical examination facilities with provision for X-Rays, laboratory and dispensary. Four beds are available for observation of the patients.
Specialists' clinics: A state of the art Dental Chair has been installed to provide treatment to the dental patients. Besides the dental clinic, special clinics for "Internal Medicine" and Homeopathy are also run in the evenings. Prior appointments are given to the patients for these clinics. Orthopaedics and Gyne. - Obst consultations are available on daily basis in the morning times. Emergency services are provided round the clock for adopted patients only. The serious patients are transported to hospitals/nursing homes in the nearby twin cities of Jagadhari/ Yamunanagar.
Looking at the difficulties faced by the patients coming from far off places to avail the token system, a new successful system of telephone booking of tokens has been introduced through a dedicated contact numbe
HEALTH UNIT
Out Patient work:
The Outpatient starts at 8 am in the summers and 8.30 am in the winters with Aunkaram and singing of Bhajans in "Stuti" of Lord Ganesha and Guru Baba, followed by "Sarva Dharma Prarathana". The Vibhuti Parsadam is then distributed and the patients are made to sit comfortably, men and women separately. The patients are seen on first-come-first-serve basis using a digital token display system. The adopted patients, toddlers and senior citizens (>65 years of age) are given priority.
OPD WORK LOAD DURING LAST THREE YEARS:
Year

Total OPD Pt

Specialist OPD Pts

Tb

New Pt.

X-Rays

Lab Invest.

Emergency cases

2017-18

22509

13305

01

2242

(133, 6%)

3428

(535, 15.6%)

150

2018-19

21666

13014

01

2179

(126, 5.8%)

3543

(459, 13%)

170

2019-20

20841

13062

nil

1701

(119,7.5%)

3179

(408, 12.8%)

133
(Figures in parentheses are the numbers related to adopted patients).
Considering that there were 304 working OPD days during 2019-20, the average number of patients attending the OPD per day was 68.5 with percentage of adopted patients as 54.4% of the total OPD registration.
Anti-tubercular treatment:
Since the beginning in April 1993, a total of 151 patients (average: 06 per year) of tuberculosis (Pulmonary and extra Pulmonary) have been diagnosed in adopted population of Darwa village. The breakup of these cases is as follows:
*Healed and rehabilitated: 135 *Recurrence: 04 (Treated subsequently)
*Died due to the problem: 06 *Treatment discontinued by pts.: 06
While the incidence of Tuberculosis is on the rise all our India, the incidence in village Darwa has been on the decline. Thanks to persistence efforts to persuade the villagers to follow the standard hygienic habits and give up smoking.
Other chronic disease patients who are taking medicines on regular basis are: Hypertension -53, Diabetes Meletus -10, Epilepsy- 05,Thyroid dysfunction -04.
Laboratory, ECG and X-Rays facilities:
A semi- automatic analyser has been installed in the OPD, manned by a qualified Laboratory Technician to prepare hematology, bio-chemical and Urine analysis investigation reports. Samples for more sophisticated tests are sent to advance Laboratories at Chandigarh/Delhi. An ECG machine is also now available for the Outpatient. Sadan has purchased a new 300mA X-Ray machine powered by a 25KVA generator, for carrying out routine radio-graphic investigations. As per legal obligation, the X-ray facility in the Sadan Hospital and the X-Ray technician are registered with Atomic Energy Regulation Board of Govt. of India for monitoring the X-Rays exposure to the technician.
Some facts about rural Health services:
a) Common ailments: Contrary to the common belief, the rural women are found to be commonly suffering from Hysterical neurosis. Worst of all, the family members don't understand it and get exploited by unscrupulous nursing homes. Second common problem is Epilepsy due to Neuro-cystecercosis.
b) The problem of alcoholism is taking a toll on the socio-economical milieu of poverty and undernourishment of family members, domestic violence etc. Death in young age due to chronic alcoholism is common. Illegal sale of liquor in the village is continuing in spite of several representations submitted to the authorities.
c) The quacks ("doctors") are playing havoc with the psyche of the villagers. These "doctors" also work as touts for the nursing homes flourishing on illegal medical malpractice, resulting in unwarranted costly investigations and unwarranted operations such as appendectomies and hysterectomies etc.
The School Health Services: Kindly see health under "Education".
Calcium + Vi D tablets are given to all the children of the school on regular basis. In all, a total of 22500 tablets (from class IST to Xth) + unspecified sachets of Vit D granules (for pre-school classes) were given during the year.
Indoor Patients:
As per policy, the patients from adopted villages requiring indoor treatment are admitted to various Hospital/Nursing Homes at Jagadhari/Yamuna Nagar for different problems. Besides, the financial help, these patients are given logistic support in the form of personal visits, arrangement of blood, food and transport. Financial help was given to deserving patients for their sophisticated
costly laboratory investigations.
| | | |
| --- | --- | --- |
| Year | Births | Deaths |
| 2017-18 | 09 | 08 |
| 2018-19 | 04 | 09 |
| 2019-20 | 04 | 06 |
Births and Deaths:
A regular record of births and deaths in village Darwa is kept meticulously (tabulated). The data of births has been useful for keeping the immunization record of all the newly born and also for admission to nursery class of Sri Sathya Sai Jagriti Vidya Mandir.
Feed Back Mechanism:
A team of doctor and volunteers visit the village every Tuesday and some of the Saturdays for interacting with the beneficiaries with the purpose of getting "feed-back" from them and for their counselling in the matter of health and the education of their children. This gives them the opportunity to update the family data in the Sadan records. The inputs from these visits help in making micro-adjustments in delivery system of the various service activities.
"When you go to hospitals to render service, actually you do not cure and serve others. You cure yourselves – your emotions, feelings and heart undergoes an unseen transformation. But that happens when you render service a worship".
- Sai Baba
Masala Production Centre
Masala production Centre:
Masala (spices) production centre was established in September 1994 with the following aims in mind:
1. To provide vocation to the rural women so that their economy is improved. Three women and a village boy have been employed in the Masala Centre.
2. To educate these working women in basic hygiene so as to improve their health.
3. To provide pure high-quality masalas (spices) to the society.
Strict control on quality is maintained at the point of purchasing of the raw materials and production. Each packing has a label, indicating the name of the masala, its date of manufacture, weight when packed and its cost. In case of any complaint, the material is replaced without asking any question.
The sale is promoted by the members in their social circles, both at Yamuna Nagar and Chandigarh. A sale counter has also been kept in the hospital section which attracts many visitors.
This year, the average monthly salary of `2396 has been disbursed to each of the rural women for their labour working for an average of 2 hrs per day. This amounts to an average labour rate of `47.92/hr. A comparative data of Masala Centre progress over the last 3 years has been tabulated as follows:
Year

Total sale

Of Masalas

Total Wages

Disbursed

Women

Employed

Average reflected

Wages of a worker/hr

Average

Wages of a worker/month

(2 hours/day)

2017-18

` 5,58,665

` 66,381

03

`37.58/hr

`1843

2018-19

` 5,32,677

` 69,688

03

`44.67/hr

`1936

2019-20

` 5,99,079

` 86,272

03

`47.92/hr

`2396
With Govt. of India having the agenda of skilled personnel growth, we hope we will be able to take a big leap forward in this wing of the project in near future.
JAGRITI LOK SEWA TRUST
(A UNIT OF SRI SATHYA SAI GRAMIN JAGRITI SEWA SADAN)
Employment opportunity: The various wings of the project are providing job opportunities to the adopted population. In the non-technical areas, the jobs are offered to economically weaker families of the adopted population, irrespective of caste or creed. But for the technical jobs, the applicants from the adopted villages are required to compete with others in a merit based open/transparent selection process.
Besides the two doctors working on voluntary basis, there are 48 regular jobs available in the project. Out of these total 47 jobs, 20 are occupied by the adopted villagers. One village woman has been engaged to run the Sadan canteen.
All the employees are covered under ESIC and EPF schemes
The details of villagers employed under various categories in the different wings of the project are given below:
Wing

Technical

Non-Technical

Total

(Rural)

Remarks

Education

*Teachers

Including the Director and Headmistress 21

*part time basket ball coach=1

Foot-ball coach =1

*Non-Teaching staff

and Sai Kitchen sewikas = (07)

30(07)

Director of the school is putting up in the campus

Hospital

*Doctors=2

*Radiographer=(1)

*Lab Technician=1

General Assistants = (2)

Safai Karam Chari =(1)

7(4)

Both the doctors live in campus

Masala Centre

*Assistant Manager=1(1)

Workers= (3)

4(4)

All from Darwa

Common Pool

Supervisor =1

Malee=(1)

Chowkidar=(3)

Canteen=(1)

6(5)

Supervisor from city

Total

29(2)

18(18)

47(20)

Out of total of 47 jobs, 20 are occupied by villagers
"Let new India arise out of the peasants' cottage, grasping the plough; out of the fisherman, the cobbler and the sweeper. The peasant, the shoe-maker, the sweeper, and such other lower classes of India have much greater capacity for work and self-reliance than others. They have been silently working through long ages and producing the entire wealth of the land without a word of complaint" -Sri Sathya Sai Baba
SPIRITUAL PROGRAMMES
Highlights:
* Celebrations of all the festivals and important cultural & heritage events to inculcate in the minds of beneficiaries the importance of ancient Indian culture and inter-religion fellowship, based on multi-pluralistic Indian society.
* Sarva Dharam bhajan sessions on Sundays, Thursdays and all festivals. Suprabhatam and Nagar Sankirtan on every Sunday and festival, Narayan Sewa on the last Sunday of the month.
The spiritual programmes are the back-bone of the whole project and a source of inspiration for the volunteers to bring in a change in themselves (self-evolution) and then to bring in a change in the society. Besides inculcating the 5D's (Duty, Discipline, Devotion Determination and Discrimination) in the children, these spiritual programmes are bringing subtle changes in the life style of the people attached to the project in various capacities.
The gains are wonderful. The darkness of "ego" of the volunteers is gradually being removed by the effulgence of sprouting "Love" in their hearts. One does hear now and then, the comments on feelings of better control of emotions, hatred and jealousy towards others.
We pray to Bhagawan Sri Sathya Sai Baba to restore the old enthusiasm in the hearts of our worthy members so that they participate in these programmes more vigorously to enjoy the bliss of taking a dip in the Ganges - the ocean of love, flowing at our doorsteps.
FUTURE PLANNING
Bhagawan Sri Sathya Sai Baba had told a group of society members in an
Interview that the evolution of this project is directly proportionate to the individual evolution of the workers working in His mission.
"Project Evolution α Personal evolution of the workers"- Baba
Nevertheless, the society places following future plan at the LOTUS FEET for bestowing His blessings and loving Grace.
Up gradation of school to senior secondary (10+2) level
The effects of Covid -19 pandemic on Sri Sathya Sai Gramin Jagriti
The first patient of Covid 19 was reported in Wuhan city of China on 30-12-2019 and was declared a Public Health emergency of International concern by WHO on 30-01-2020 and on the same day, India reported its first case in Kerala. Since then, the disease has caused havoc globally. While the full effect on the global health and economy is the matter of investigation, one thing is sure that it seems to be a befitting response of the Mother Nature to the mutilating onslaught of humanity on it.
Sri Sathya Sai Gramin Jagriti Sewa Sadan had also been affected by the Covid -19 and its aftermath:
The health unit worked with all the precautions of temperature recording by infrared non touch temperature reader, compulsory mask wearing, sanitization of hands and observing social distancing. It continued to play its humble role in mitigating the sufferings of the patients coming from far off places.

The school remained closed during the lockdown, resulting in academic loss. Although the teachers worked hard to give assignment on the WhatsApp groups yet there are certain limitations to this arrangement. Not all the students had the accessibility of smart phones. The average IQ of the students require black board class room teaching and then there are reports of Ophthalmologists suggesting adverse effects on the eyes of the students for prolonged smart phone screen sighting.

The school closure has also resulted in disorderly behavior of the children reported by parents. The much late getting up from the bed, watching TV and over eating were seen as side effects of lockdown.

The civil work of maintenance and new proposal were delayed.

The slowed down economy seems to have no effect on the inflow of funds contributions from different sources, true to divine assurance "Morality is your responsibility, rest is mine"- Baba